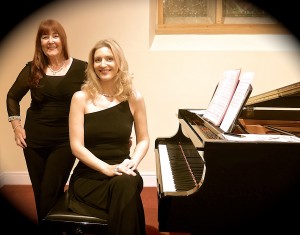 International Greek Cypriot soprano Katerina Mina met Linda at the STARMUS festival in Tenerife.
This started a musical liaison and led to Katerina recording Rainbow Of Light, which was inspired by the International astronomy and music event.
Cellist Lydia Hillerhud and violinist Ariel Lang featured on this recording, along with Pip Evans and Callum Gibson.
In 2015 Rainbow Of Light became an official song for UNESCO's International Year Of Light around the the world. In the same year, another version called Rainbow of Light anthem, produced by Nigel Stonier, at Airtight Studios in Manchester, was released. A video of the song was played at the film festival during the IYL closing ceremony in Mexico.'Freedom For Me' followed in July 2017 and these pieces will be released on an EP, along with three other songs written by Linda in 2018.
Photo © Shantha Delaunay