Rainbow of Light was written by Linda Lamon after being inspired by speakers  such as  the late Professor Stephen Hawking, Richard Dawkins and Dr Brian May, at the Starmus Festival of Science and Arts, where she also met soprano Katerina Mina. http://www.starmus.com
The classical version, recorded by http://www.katerinamina.com, went on to represent UNESCO for their International Year of Light  and an updated classical cross-over version was performed by Ms Mina for the International Day of Light inaugural celebrations at UNESCO in Paris, now held every year on May 16th. https://www.lightday.org/seethelight
The single has been released to support NHS Charities Together https://www.nhscharitiestogether.co.uk during the Covid-19 crisis and is available from digital stores, including Amazon, Spotify and iTunes.
"Such a luscious melody and harmonic atmospheres – fantastic songwriting and Katerina's voice is just splendid."
Steve Vai – former Frank Zappa guitarist.

"Katerina's voice is beautiful."
Dr Brian May
"Magnificent" Marc Sylvan, media composer/ Pointless/The Masked Singer/Crystal Maze/Tipping Point
"Beautifully uplifting Song" Ivor's Academy (Formerly BASCA).
"It's a great song." Garik Israelian, founder, Starmus Festival.
IN THE MEDIA
Astronomy Magazine, USA
"Simply gorgeous".
http://cs.astronomy.com/asy/b/astronomy/archive/2018/05/09/look-to-the-universe-this-may-16-the-international-dayof-light.aspx
Daily Express.
Stockport Express.
Radio Interview by Andrew Edwards at All fm Manchester
"Very lyrical, flowing and beautiful"
https://soundcloud.com/zeplammy/all-fmlinda-lamon-interview-rainbow-of-light-anthemwav
https://www.facebook.com/Linda.Lamon/videos/pcb.10210816652720317/10210816562998074/?type=3&theater
"Absolutely Incredible". Hazel Butterfield, presenter, Wandsworth Radio, UK
Fylde Coast Radio/Lancashire/ Steve Kelly "Mind blowing."
Classical X Over 4U/Wrexham/Jannie Rawlinson/ Calon 105 fm " "Beautiful"
Women's Radio/London/Stefania Passamonte tech@womensradiostation.com
"Amazing."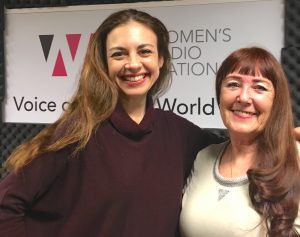 Greek Beat Radio, London, presenter
West Norfolk Radio , presenteer
Radio Melodia, Toronto. presenter
CYPRUS TV
HAMBURG PLANETARIUM 90th Birthday live streaming show.
https://www.linkedin.com/pulse/rainbow-light-anthem-single-supports-nhs-together-linda-lamon/