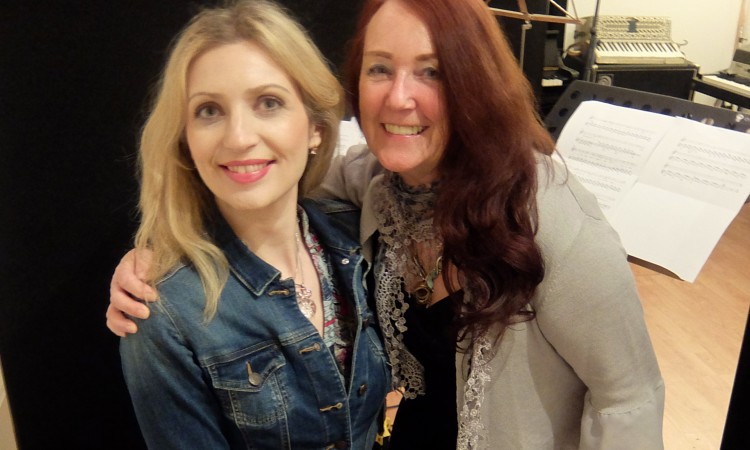 Linda has over two decades of experience recording in studios and since starting her collaboration with soprano Katerina Mina, she has been busy in various studios across the UK capturing Katerina's crystal clear voice.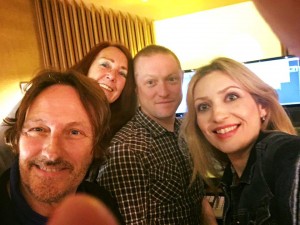 Linda is pleased to once again be working with producer Nigel Stonier in Manchester after a hiatus of over twenty years. "Nigel produced a song I wrote that supported the Manchester Olympic Bid and he created such a beautiful recording of Fly The Kite For The City with the Alicia Bardsley Singers that it got lots of radio and TV coverage at the time," said Linda, who is currently working on an EP with soprano Katerina Mina. "I decided to track Nigel down when Katerina and I agreed to make a new contemporary recording of Rainbow Of Light , along with other pieces I have written, because I knew he would make them sparkle." she added.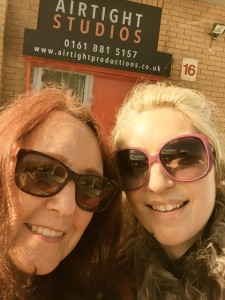 The new recordings have been made at Airtight Studios in Manchester around a hectic schedule as Katerina is based in London and has been busy flying around the globe this year, performing opera roles and classical concerts. "We had two full on days of sheer hard work with sprinklings of fun in-between, but the results were worth it."
Katerina and Linda made the first recording of Rainbow Of Light, which is classical style, at the Gravity Shack in London as it was easier for Linda to travel to the city from Manchester to fit around Katerina's crazy timetable. "This was my first classical piece and I wondered what on earth had hit me, but Katerina loved the song and classical was the genre it naturally sat, so I just got on with it and the arrangement, beautifully played by cellist Lydia Hillerhud  and violinist Arial Lang  actually flowed naturally," Linda explained.
Parts of this recording were made at Active Music in Poole, Dorset working with producer Lynton Guest and bassist Pip Evans with guitarist Callum Gibson.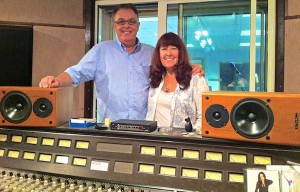 "I had lived in Dorset, in Bere Regis, for about three years and recorded a few of my songs at Active whilst I was there, including The New Woodland Song, The Bells Of Bere Regis, Faint Hearted Woman, People Like You, Don't Say A Word, and The Badger & The Wren. I thought it made sense to work with the musicians I knew but although they played well, I've since learnt its not a good idea to use different studios for the same recording as things can magically change en-route and cause chaos in the mixing process." said Linda
Closer to home, Linda spent  some time at The Shed recording studios in Romiley, Stockport, putting together a compilation of country and Bluegrass songs, along with her own piece I Will.
UK musicians Chris Perry (fiddle), Ian Woolly (dobro) Dave Shannon (guitar & producing) Steve (double bass) Arthur Roberts (Mandolin) Patrick O'Connor, Dave Nolan & Linda Rayner added their own magic to the CD that raised over £3,000 for the Motor Neurone Disease Association and St Anne's Hospice.
It was also at The Shed that Linda worked on With A Mothers Eyes, Turn Around, Bright Day At The Brindley, Music In The Box and Freedom For Me.
"One of the songs on the latest EP is Freedom For Me, which was originally recorded at The Shed, but has been hanging around doing nothing since because I was never quite happy with it. And here we are, with Katerina now singing it – and it sounds so right, like it was always meant to be recorded that way – its just taken over twenty years for it to find its true home."
This will be added to Rainbow Of Light Anthem, beautiful new versions of The Bells Of Bere Regis and The New Woodland song – and another new classical cross over piece 'Romance To The Stars', that I am particularly excited about." Linda explained.