The last few months have been very busy for Linda, who has been travelling across the UK to rehearse and record some of her own new songs for two exciting projects.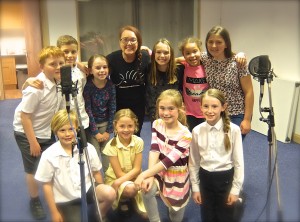 "I had been thinking of writing an upbeat piece for May's Wood for a while, as a follow up to The New Woodland Song, but it really didn't come together until the end of last year when I composed 'Walking In May's Wood'.  I played the demo to Brian May's Save Me team and they loved it so much they asked me if they could use it as a track for a video they are planning ." Linda said.
"I was delighted when Darren Bartlett, choir leader of  DYNAMIX – a very talented children's choir from Dorset – agreed to record it.  It did mean a few 5 hour trips down the M6 and M5 to Bournemouth from Manchester to practice the folk tune and get it right, but Dr May said the song was "Fantastic!", when he heard it, so I guess we did something right."Walking In May's Wood, which features a good old fashioned whistler in the form of Richard Drew from Poole, is being released around  July this year and will be available as a download from digital stores.
This will coincide with the launch of a new EP by Katerina Mina, a London based spinto soprano, who has recorded four of Linda's compositions with producer Nigel Stonier, for inclusion on the album.  Katerina and Linda are currently working on a fifth piece called 'Romance To The Stars'  which will be recorded at Airtight Studios in Manchester at the end of June.
"We are quite excited about this new track;  We have used a well known classical  guitar piece and I have added my own lyrics. The effect, with K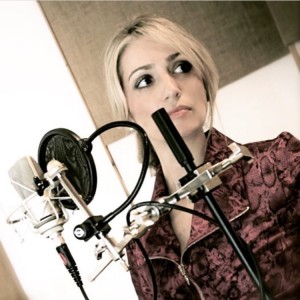 aterina's stunning voice, is quite surreal." Linda says.
The five songs, include Rainbow of Light, (which was used as an official anthem for UNESCO's International Year Of Light), The Bells Of Bere Regis, The New Woodland Song, Romance To The Stars and Freedom For Me  -you can listen to a snippet of the song here:- (You will need Quicktime Player)
Freedom For Me sample © Linda Lamon 2017
If anyone reading this is interested in receiving further details about the single release and EP launch, please contact Linda using the contact form on this website.