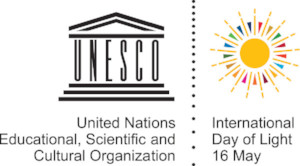 A new piece written by Linda Lamon will be performed by soprano Katerina Mina at UNESCO'S building in Paris for their International Day Of Light inauguration celebrations in 2018.
Following in the footsteps of the world renown classical violinist Joshua Bell, who played at the United Nations HQ for their International Year Of Light in 2015, Katerina will sing Look to the Universe for an audience of representatives from countries worldwide.
After the huge success of the IYL, an International Day of Light has been announced, which will be celebrated annually around the world as a focal point for the appreciation of the role that light plays in the areas of science, astronomy, technology, art, culture, & education.
"These are really exciting times and Katerina and I are thrilled and honoured to have been officially invited to go to Paris on May 16th 2018 to take part in this important event for raising awareness of light in our lives." Linda said.
Linda had not quite completed her new piece, produced by Nigel Stonier, when she was asked to send any new compositions for consideration at a UNESCO planning meeting.
"A previous song of mine, Rainbow Of Light, was used as an official anthem for the International Year Of Light and they wanted to hear something different.  I sent a demo, with Katerina singing and they loved it, so I am now busy working on the final edits at Airtight Studios in Manchester, ready for a release date in the new year." Linda explained, adding:
"There will be further interesting updates soon, so we'll keep you posted."
If anyone is interested in becoming a partner and helping to produce a music video for Linda and Katerina for this global prestigious event, please contact us on this website form or email the secretariat here.
Or you can register your email with us at MUSIC GLUE and we'll keep you updated.