The forthcoming album, ABOUT TIME is aptly named to reflect the fact that it is about time she recorded songs she has been writing since she was 16. It also explains that these pieces really are about time as they cover four decades, from the eighties to the 20 twenties. A blend of country and pop, the tracks were recorded remotely during the COVID-19 lockdown by musicians in Nashville, USA, with Linda adding the vocals and mixing in Dorset and Manchester.
Overseeing the project was producer Lynton Guest, former member of The Love Affair who had Number 1 hits in the 1960s with classic tracks Everlasting Love and Rainbow Valley.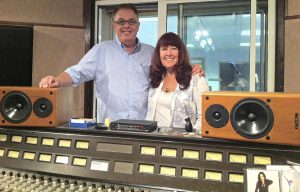 "It took a 17 -year- old band mate to encourage me to record my own songs after I had spent years being involved with music in some form. But it still took me another ten years to get around to doing it. It was only after my husband died from Motor Neurone Disease that I picked up the gauntlet and ran with it."
HOLD ON IN LOVE'S NAME WILL BE AVAILABLE FOR PRE-ORDER FROM MOST DIGITAL STORES ON 20th AUGUST  2020. RELEASE DATE is 7th SEPTEMBER.
https://music.apple.com/gb/album/hold-on-in-loves-name-single/1528244270
See 45 sec trailer here :-
Linda's album ABOUT TIME will be available October. Date yet to be announced.
FOR FURTHER INFORMATION & INTERVIEW OPPORTUNITIES: Please contact Lisa Davies, 07770 328232
Email: lisa@lisadaviespromotions.co.uk