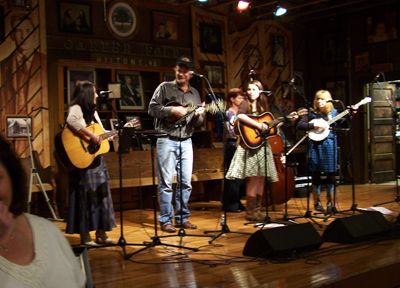 Linda has been influenced by many genres in music, including classical, folk and pop and this has helped form her own songs.
As part of the church music group, Linda played acoustic guitar and helped provide music for services.
After learning new skills in double bass, mandolin and bluegrass guitar picking at Sore Fingers summer school in Gloucestershire, the singer played at Didmarten Bluegrass Festival with her band Blue Heart and appeared at the Cornish Bluegrass Festival, & the North Wales Bluegrass Festival in Conwy.
Following a trip to the USA, where Linda played at the Carter Family Fold in Tennessee with the White Top Mountain band, she formed Cash, Carter & Co with Kayne Burgon and Patrick O'Conner, performing mainly Johnny Cash and June Carter covers. The band appeared at The Cinnamon Club in Altrincham, performed at concerts at the URC church halls and regularly featured on the popular Folk Train's in the Greater Manchester area.
Whilst living in Dorset, as a break from songwriting, Linda regularly performed her own songs, singing with acoustic guitar, mandolin or ukelele at charity concerts, including the Brockstock event at the Electric Palace in Bridport.
Linda continues to occasionally give live performances, especially for charitable causes, such as the Dave Shannon Tribute concert.